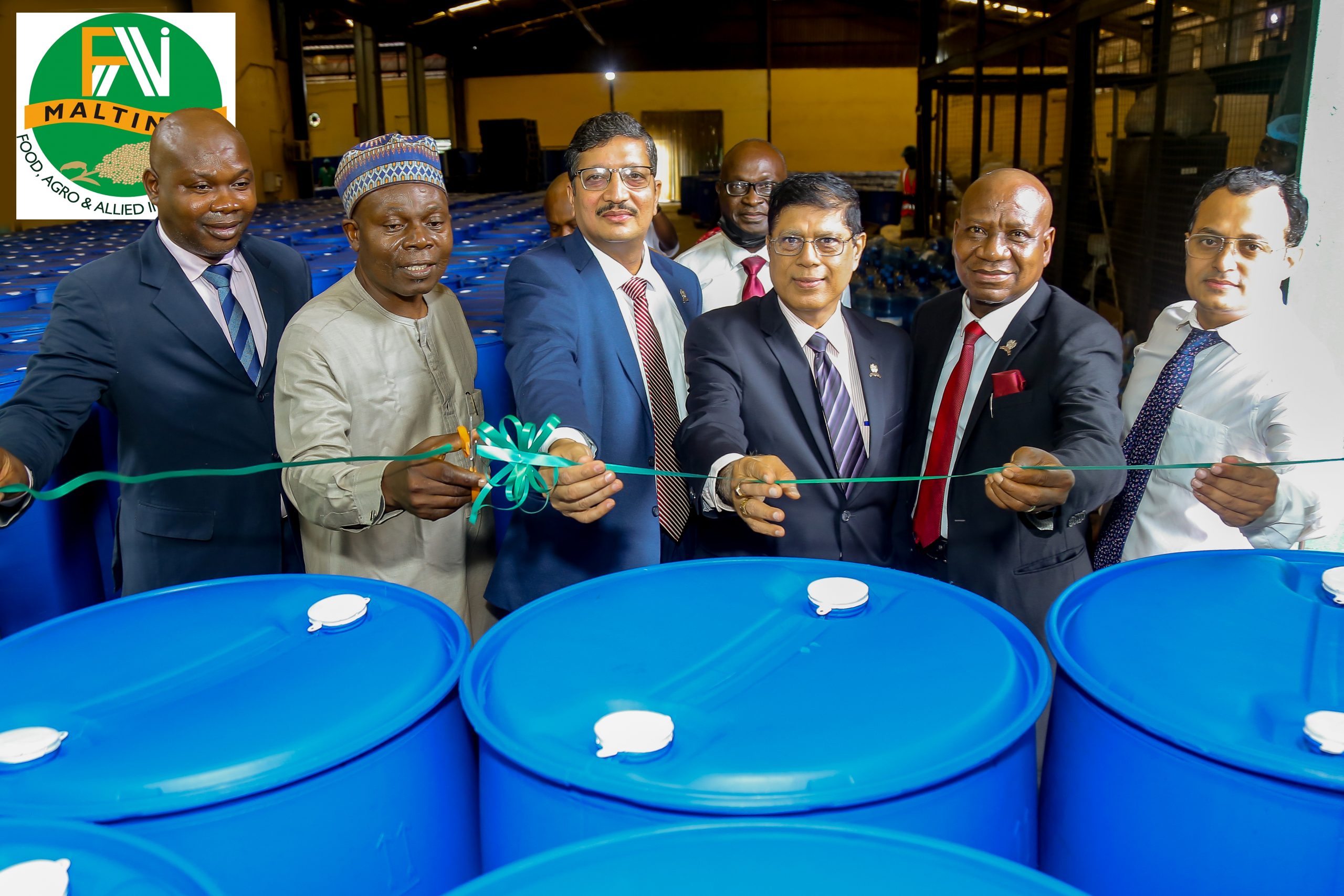 By Zion Rufus
Source: Marketing Edge
Africa's largest Sorghum Malting Plant– Food, Agro & Allied Industries Limited has concluded plans for its malt extract exportation to New Zealand in line with the government's initiative to diversify the revenue stream of the country as well as improve economic growth.
The company which sources over 90 per cent of its raw materials locally has become a leading player in the Nigerian manufacturing sector. In 2018, Food, Agro & Allied Industries Limited kicked off the expansion of its exportation footprint to New Zealand with its made in Nigeria Malt extracts. The company processes raw Sorghum into Sorghum malt and malt derivatives such as standard and quality malted sorghum, malt extract, maltose syrup, and glucose syrup amongst others.
State Coordinator, Standards Organization of Nigeria, Eng. Jerome Umoru who stood as a witness at the unveiling of the shipment which held at the company's state-of-the-art plant in Sango-Otta, Ogun State said: "We are extending our hearty congratulations to the group especially in the area of its malt extracts, what we are looking for is exactly what we have seen, which is the diversification of the Nigerian economy from oil to non-oil sectors. This group is notably the first to do the work of extracting, and carrying products from here to New Zealand, that is a highly commendable effort, and we are assuring you that whenever you need our support as the Standard Organization of
Nigeria we will readily grant it to you."
Stressing the uniqueness of the product, Managing Director, Food, Agro & Allied Industries Limited, Mr. Kal Murthy stated: The malt extract is produced in Nigeria, and it is the only unique product nobody else is producing. This product which we manufacture here with local raw materials is 100% local sorghum. Another unique advantage of this product is that it is gluten-free, sorghum is gluten-free. As we know, gluten is intolerant for some people and that is why now, people are going into the gluten-free products internationally in the USA, Europe and many others for health
concerns."
He further explained: "Our motive is, we want to use local raw materials to develop a unique product which is useful in the beverages sector and also in the breweries sector and it is in very high demand as of now. Internationally, this is the second time we are supplying to New Zealand, and Australia is also coming up on the line."
In the same vein, the Group Managing Director, Sona Group of Industries Limited, Mr. Ajai Musaddi pointed: "This product is very unique and I can tell you it is only produced in Nigeria, nowhere else in the world except Nigeria. The malt extract produced from sorghum is so good and healthy that every advanced country where they know its health benefits are looking for this product and our installed production capacity is 30,000 metric tonnes per annum and we are also putting up a second plant of similar capacity."
However, while noting that Nigeria has a huge potential for exportation, Mr. Ajai Musaddi enjoined the Federal Government to create better infrastructure for easing export activities in Nigeria.
"More emphasis should be placed on export and not only on imports, exporting should also have a special corridor," Musaddi said. "In 2023, our capacity will be doubled; we are giving maximum whatever we are supplying, and our export potential is very good, and we hope if the government can help take care of the problems we have with exportation on the port side we will be able to export more as we look forward to contributing more to the Nigerian economy," he added.
Food, Agro & Allied Industries Limited is one of ten subsidiaries of manufacturing company Sona Group. Sona Group of Industries is a diversified conglomerate and a key player in Nigeria's industrial growth, with an impactful life span in the economy of over 30 years in feeding Nigerians and catering for their industrial needs. Some of its leading brands include Maltonic, Sabrina Gin, Sona Bites and many more.